In today's fast-paced world, businesses often play a vital role beyond mere profit generation. They become the threads that weave the fabric of society, connecting individuals and communities in meaningful ways.
Driven by a strong sense of responsibility, Sunwire has embraced this role wholeheartedly. Through dedicated efforts, thoughtful donations, and impactful sponsorships, they have forged deep connections within the communities they serve, enriching lives and leaving a lasting positive impact.
At the core of their philosophy lies the belief that a successful business strives to create a symbiotic relationship where both the business and the community thrive together. One of the cornerstones of their community-centric approach is their commitment to giving back. This is why, last year, Sunwire launched its monthly Loyalty Draw.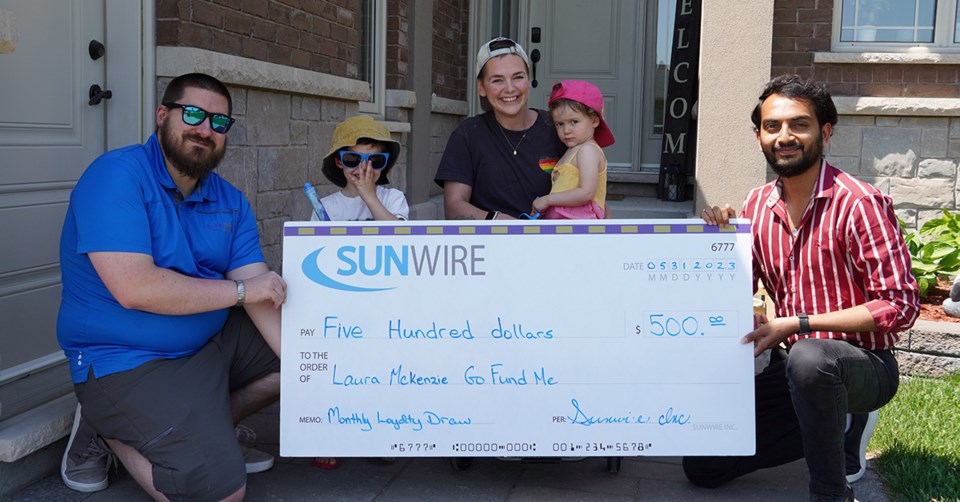 Every month, one lucky Sunwire home internet subscriber is awarded FREE Home Internet for 1 whole year! In addition to that, the winner also receives a Sunwire Swag Bag PLUS Sunwire made a $500 donation to a charity of their choice. All active Sunwire customers are automatically included in the draws – which continue to take place today.
The Sunwire Loyalty Draw has been their way of giving back as well as saying: "Thank You". Over the last 12 months, with the guidance of their loyal customers, Sunwire contributed to:
Better Beginnings, Better Futures (October 2022)
Kidney Foundation of Canada (November 2022)
Espanola Food Bank (December 2022)
PetSave – Sudbury Branch (January 2023)
Chelmsford Fish & Game Assocation (February 2023)
Ontario SPCA (March 2023)
Sudbury Food Bank (April 2023)
GoFundMe for Laura McKenzie (May 2023)
Heart and Stroke Foundation of Canada (June 2023)
Diabetes Canada (July 2023)
Canadian Cancer Society for Brest Cancer Research (August 2023)
LIP: Low Income People Involvement of Nipissing (September 2023)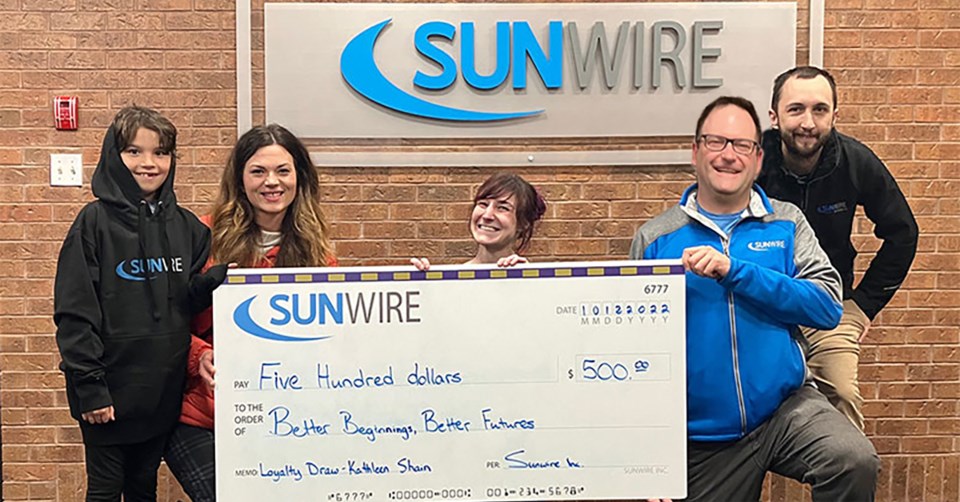 From giving to local groups and educational programs to supporting healthcare initiatives and community centers, Sunwire's contributions aim to address pressing needs and create a better environment for everyone.
Sponsorships, another key aspect of their community engagement, reflect their belief in nurturing local talent and providing platforms for growth. They take pride in supporting local events, youth sports teams, and cultural initiatives that bring people together and celebrate the unique spirit of their communities. These sponsorships not only create memorable experiences for the residents but also foster a sense of unity and pride.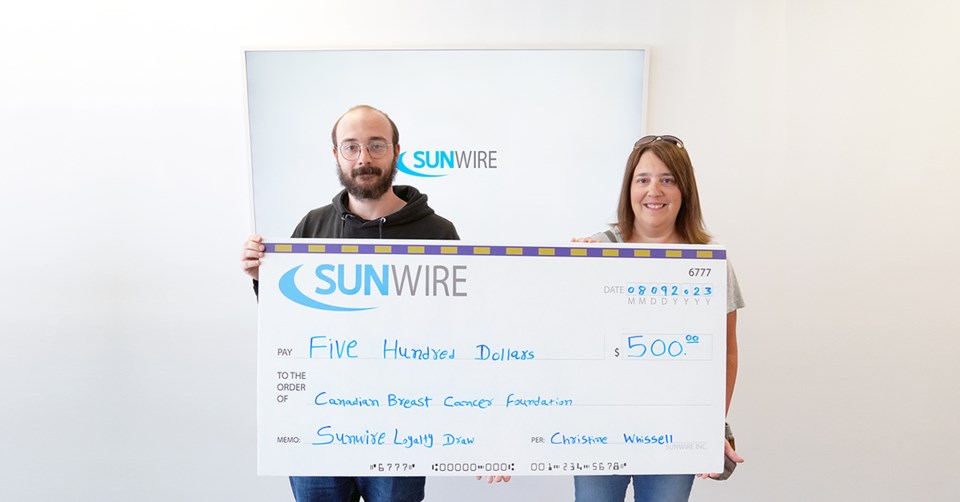 Their journey in connecting with communities has been a reciprocal one. Through their interactions, they've gained valuable insights and learned about the diverse aspirations and challenges faced by the people they serve. This firsthand understanding has enabled them to tailor their products and services to better suit the needs of the community, fostering a sense of belonging and loyalty.
Sunwire is proud of the footprints left in the hearts of the communities they touch. Their commitment to connecting on a human level, rather than just as a business, has allowed them to build bridges of trust and empathy. Every smile they've elicited, every opportunity they've created, and every challenge they've helped overcome reinforces their belief in the power of collective action. As Sunwire continues to move forward, they are excited to further strengthen their bonds, create more meaningful connections, and contribute to the betterment of the communities they serve.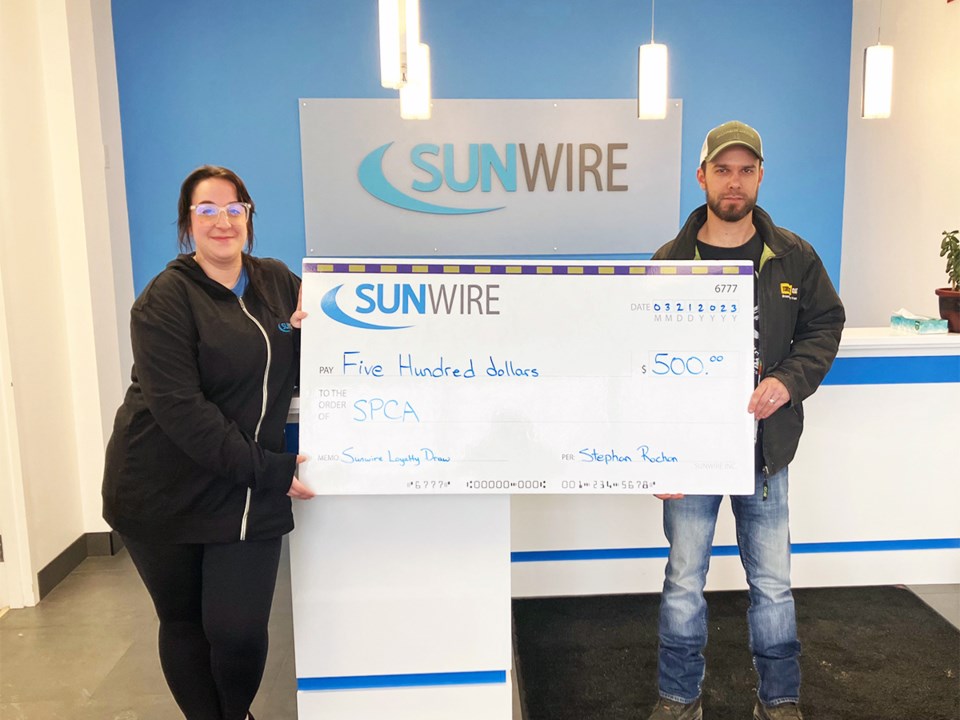 About Sunwire Inc.
Sunwire Inc. was founded as a software development firm in 2009, achieving early success by developing a state-of-the-art telecommunication platform – the SolSwitch. The SolSwitch has since gone on to process over 1 billion telephone calls for tens of thousands of homes and businesses across Canada. Due to the quick success of the SolSwitch platform, and to complement its telephone services, Sunwire added Internet to its portfolio of business offerings.
In 2016, Sunwire introduced high-speed Home Internet and Home Phone service to Greater Sudbury. Shortly thereafter, Sunwire expanded its footprint throughout other Northern Ontario communities followed by Southern Ontario regions. In early-2021, Sunwire TV was introduced – featuring all of today's top HD channels as well as PVR capabilities. Today, Sunwire has more than 50 local employees, is one of Canada's Fastest-Growing Companies and has satisfied residential and business internet, TV and phone clients across all of Ontario and beyond.
To learn more about Sunwire, visit www.sunwire.ca.