Being just 17 years old, it wasn't all that long ago that Tsehay Hawkins was watching the legendary Australian children's music group The Wiggles herself.
In 2021, Hawkins was named the new "yellow" Wiggle, becoming the group's youngest-ever member, replacing the departing Emma Watkins. Almost two years later, the teen performer said she still sometimes thinks this turn of events is "surreal."
"It's definitely the coolest job anyone could ask for," Hawkins said, in a recent phone interview with Sudbury.com. "I love dancing, I love singing, and I love children. They're absolutely beautiful and the best audience."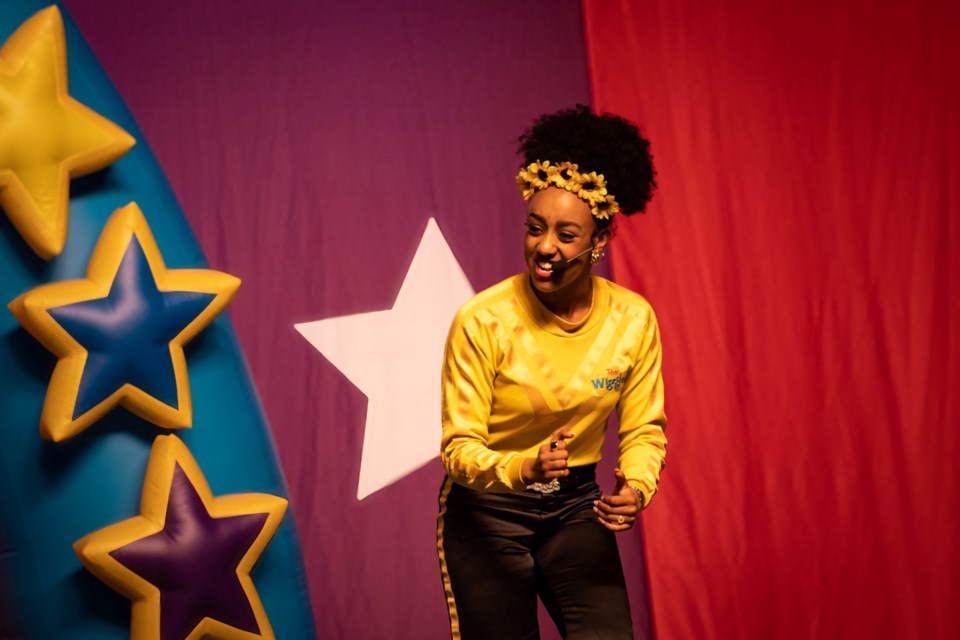 Hawkins and the rest of the Wiggles are currently on their Ready, Steady, Wiggle Tour of Canada, and will be visiting the Sudbury Community Arena on Oct. 6.
Having toured Canada with The Wiggles in 2022 as well, Hawkins said she's looking forward to "trying all the Tim Hortons I can," as well as meeting fans.
As she's still technically a minor, set to celebrate her 18th birthday in November, Hawkins tours with her mom, who acts as her chaperone.
Previously attending a performing arts high school, Hawkins has now finished her secondary school education. She said her youth is actually an advantage, as she has a lot of energy to spare.
"I guess I can relate to the children's energy and excitement," Hawkins said.
With The Wiggles having been formed in 1991, more than 30 years ago, Hawkins said she grew up in the "prime time" of the original Wiggles crew. Her favourites as a kid were Dorothy the Dinosaur and Greg Page, one of her predecessors as the yellow Wiggle.
"I mean, he's a legend, and he drives the Big Red Car," Hawkins said.
She became an auxiliary member of the Wiggles in 2021 for the Fruit Salad YouTube series, later being hired as Watkins' replacement as the yellow Wiggle.
The other auxiliary Wiggles were also hired on permanently, and as Hawkins puts it, there's now "double every colour" in the Wiggles' lineup, as the group has increased in size to eight members, increasing at the same time its ethnic diversity.
Promotional material provided by the Wiggles said the current lineup features those who are Indigenous Australian, Latino, Black and Filipino.
The current core four Wiggles are Hawkins, Anthony Field (the only one of the original generation of the Wiggles still in the group), Lachlan Gillespie and Simon Pryce. Supporting members are Evie Ferris, John Pearce, Caterina Mete and Lucia Field.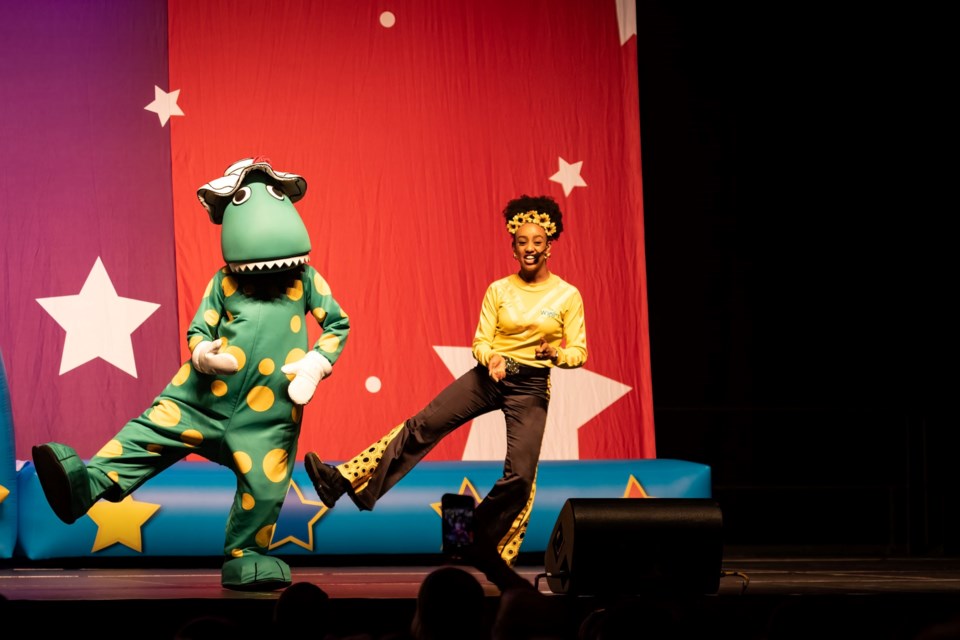 Hawkins was born in Ethiopia, and adopted by Australian parents when she was five months old.
"I think it's really important that I can bring representation to the Wiggles, and I'm very grateful that they've allowed me to do that," she said. "I think just seeing someone that looks like you on screen really matters. I think if you can see it, you can be it. For children to feel like they're included, it means the world.
A talented dancer, Hawkins has brought her own style to the yellow Wiggle role. "I think I bring my dance background into it, and I get to teach a little Wiggle Salsa," she said.
Instead of the big bow of her yellow Wiggle predecessor, Emma, Hawkins wears a sunflower headband and sports sunflowers on her costume.
"My name, Tsehay, is Ethiopian, and it directly translates to 'the sun,'" she said. "So sunflowers is kind of a tie-in."
As for the upcoming concert, Hawkins said to expect a lot of Wiggles, other favourite characters, such as Dorothy the Dinosaur, Wags the Dog and Captain Feathersword and songs from the more than 30 years of Wiggles history.
"We're going to be going through the audience and meeting all the families, so it'll be really fun," she said.
The Oct. 6 Wiggles show at the Sudbury Community Arena runs at 6 p.m. Tickets are required for children 12 months of age and older. Purchase tickets online here.
Heidi Ulrichsen is Sudbury.com's assistant editor. She also covers education and the arts scene.