Before starting their business in the early '70s, Pierre Bélanger and his late father, Laurent, thought farming bison would require minimal effort and commitment.
They began Bison du Nord in the Temiskaming region in 1972. That was shortly after the federal government reclassified bison as a domestic species available for commercial ranching.
Bélanger recalled he and his father found bison appealing, but they didn't embark on bison ranching for commercial or financial purposes.
"It was one of those things where you say, 'This is going to be interesting, fun and a challenge.' It turns out that it's much more labour-intensive than we had thought," Bélanger said, adding that many of the other early bison startups have disappeared.
"We stuck with it."
Now Bison du Nord has 400 bison roaming the 263-hectare (650-acre) farm in Earlton.
"I think now we probably qualify as the oldest bison ranch in Canada."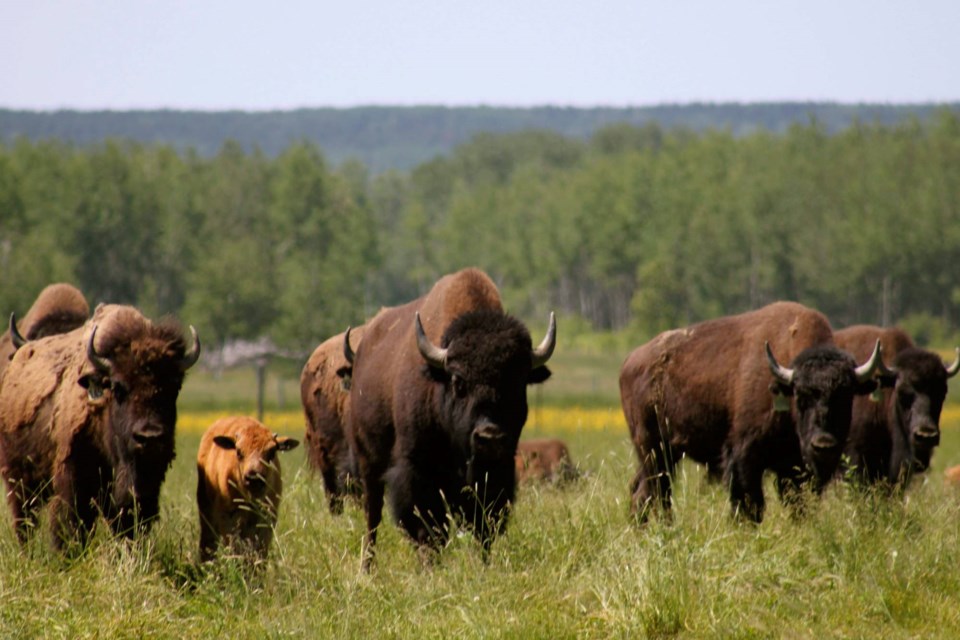 Four hundred bison is the peak. Bélanger said each year the farm produces 100 calves from the herd, while 100 bison are sold off. Roughly 70 animals are sold for harvesting or slaughter, while another 30 are sold for breeding stock.
"Every year we help one or two people start their bison herds up; we act as mentors and guides in this enterprise," he said.
The Canadian Bison Association states that bison meat is similar to beef, but is a leaner, tender alternative with a richer taste.
The bison meat from Bison du Nord is harvested at an abattoir in nearby New Liskeard before it's shipped out by refrigerated trucks to select butcher shops in Ontario.
Bison du Nord also sells products on its farm and its website.
"We have to take care of the distribution completely ourselves," Bélanger said, adding that distribution is still a problem for small independent 'niche' operators in the food world.
Want more business news from the North? Sign up for our newsletter.
The Bison du Nord ranch is certified animal welfare approved and 100 per cent certified grassfed. This means the farm undergoes regular audits before the certifications are verified by the third-party accreditor, A Greener World (AGW).
"So I think we're progressive and contemporary in our approach," Bélanger said.
The farm uses sustainable agriculture practices like no herbicides or pesticides, and no growth hormones for the animals. The bison roam an open range through their entire lifespan.
"Our intention then is to have a leading-edge animal production enterprise that subscribes to all of the great values that we pay lip service to. We're actually doing it in practice," he said.
A family enterprise
Laurent Bélanger passed away in 2007, leaving Pierre Bélanger as the sole owner up until recently. His three children — who all grew up on the farm — are now the full shareholders of Bison du Nord.
"I've transitioned the farm over to them. I remain there as a hovering presence," the 76-year-old Bélanger said. He is still active with daily work around the property. "I'm lucky — I happen to have this mix of skills within the family; my three children each have some real skills."
Bélanger explained that his son looks after the animal husbandry and the mechanical side of the farm, while his two daughters deal with the marketing, social media and sales.
"I'm really proud of us, what we achieve with the bison ranch in terms of productivity."
Just recently, Bison du Nord started farmgate sales of some of its meat like bison burger patties, pepperettes and jerky.
"That is all going to be available on a regular basis at our farm going forward," Bélanger said.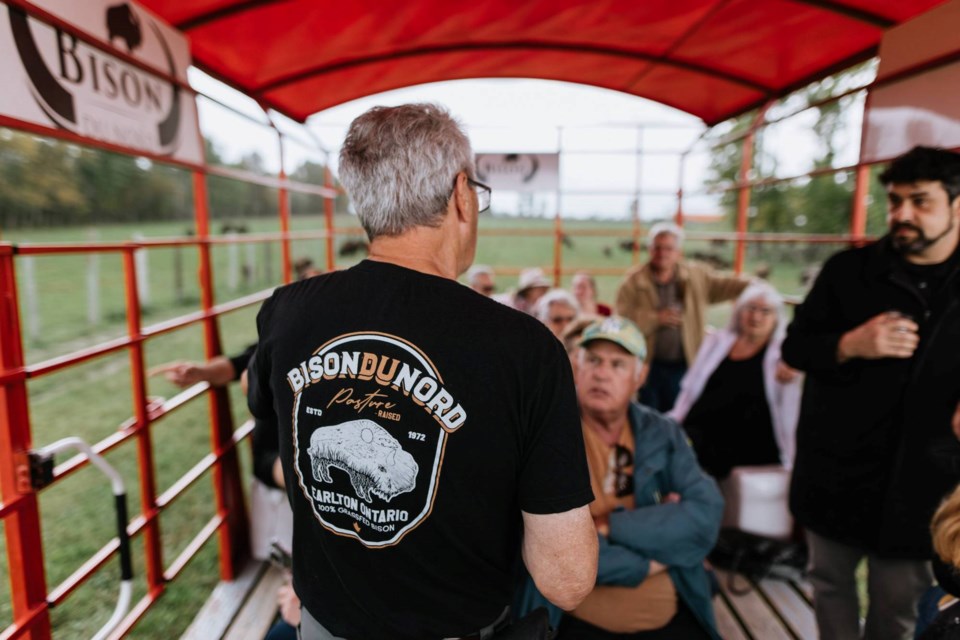 During the COVID-19 pandemic the business established a gift shop online. That has now expanded to include in-person sales on the farm as well.
"It all adds income streams to the farm."
Another recent revenue stream is the addition of paid tours around the bison farm. Those are held every Saturday during the summer.
"We run this very high-quality tour in a specialized wagon right into the herd," Bélanger said. The tours include a history of bison and the farm, as well as a tour of the handling facilities. "That produces some extra income and of course produces a clientele overtime."
In mid-September, Bison du Nord hosted the first Feast on the Farm in Northern Ontario. Feast on the Farm is a provincial culinary tourism event which promotes regionally produced food and drinks. There is a high-end food and drink event where a handful of local chefs cook dishes from local sources. It is organized by the Culinary Tourism Alliance.
According to Bélanger, organizers had planned for 100 guests for the Temiskaming Shores event. Those tickets quickly sold out so a further 40 tickets were made available.
"They told me at the end of it this was the biggest one they've had," he said. "It was a very deliberate effort to promote the very high-end, high-quality foods produced in Northern Ontario."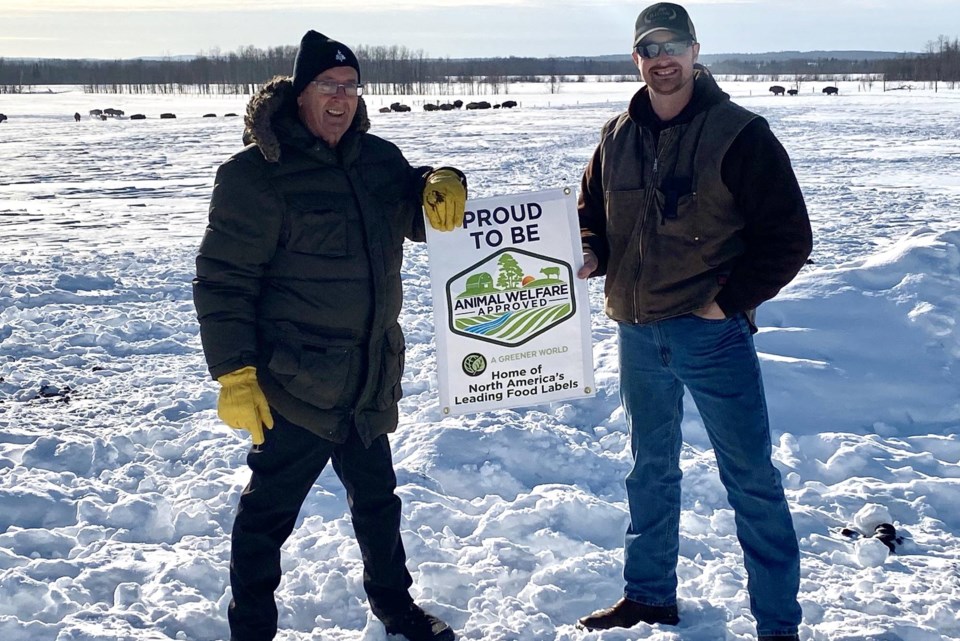 All of the efforts by owners of Bison du Nord are deliberate and part of the "conscious strategy" of the business, Belanger explained.
"We do the tourism side, we're doing the farm sales and the gift shop. So all of these add revenue streams to what otherwise would just be a meat production company," he said.
"We don't just want to survive as farmers or ranchers. We want to thrive."
​

​