NORPRO Security, a division of N1 Solutions, Inc., is currently recruiting licensed industrial security guards and is hosting a career expo on November 3 from 11 AM – 2 PM at their head office location, 477 Queen Street E., Suite 303 in Sault Ste. Marie, ON.
To find out more about this unique career path, we sat down with two of NORPRO Security's professional industrial guards and asked them about their experiences on the job.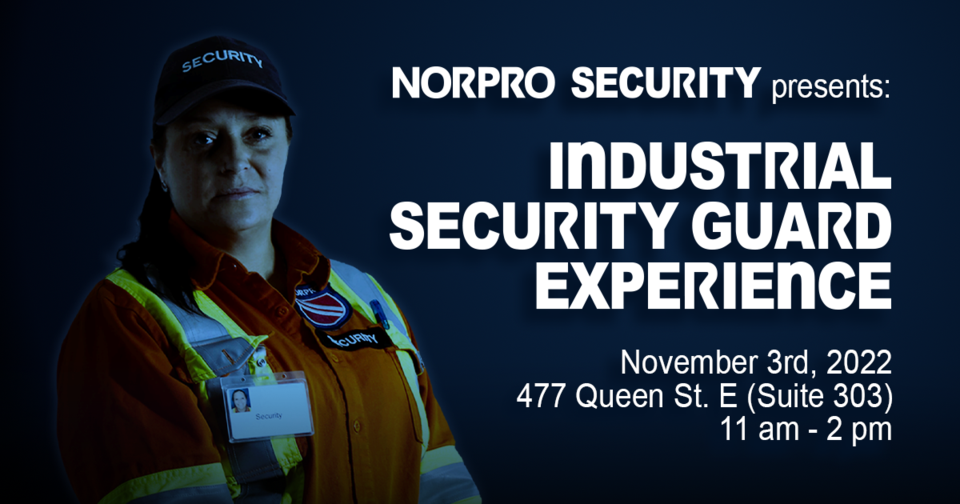 A Stable Career that Boosts Self-Confidence
The industrial guard we spoke with, who started out with NORPRO Security as a screener/tester for COVID-19 during the pandemic, changed careers from a personal support worker to reduce stress on her family and to earn more money.
Why did you become an industrial guard?
"I liked the idea of having seven days off together. It's so much more consistent. It's dependable, it's stable, and it works. I know when to schedule my appointments, I know when we can have our family days, and when I can have my down time because I know it is going to be there.
At the end of the day, I feel so much better about myself. I'm not as stressed out. When my day is over, it's over. Both my family and I are so much happier."
What is the best part of your new career?
"I'm very proud of the whole idea of being an industrial guard. I'm 43 years old, so switching careers at my age was very nerve wracking at first, but the whole experience has been amazing.
One of my prouder moments was being in a situation where medical attention was needed on site. From my past experience and knowledge, and because NORPRO helped me get my Medical First Responder certification, I was able to dive right in and know what I needed to do."
What is it like working for NORPRO?
"NORPRO has been absolutely amazing. They helped me take the Industrial Guard Training Academy course online and they were very supportive by checking in on me to see how everything was going.
I've lived in Northern Ontario for my whole life and every time I get out on the highway it is a different experience. Every view, every sunrise, every sunset, every corner - it never ceases to amaze me, especially with the fall colours."
Do you see this as a long-term career?
"If NORPRO will keep me, absolutely! They have been very supportive in helping me get other credentials that enhanced my skills for my position. I definitely plan on sticking with this type of career.
What is some advice you have for someone who is considering a career change?
"Don't be afraid. Be courageous and just go for it because it's worth it."
Growth Opportunities and a Reliable Team Environment
We also spoke with an industrial guard supervisor who started in 2021 as an industrial guard and quickly got promoted.
Do you enjoy the schedule of an industrial guard?
"Your days off are great. You could do so much and then you can do so little, too. Whatever you want, your time is all yours.
I didn't used to have the time off I have now, so I feel like I'm a better father, better husband, and just a better person. I'm relaxed and less stressed."
What do you enjoy about working in a team?
"It tests your integrity for sure. We're all there in the same boat and there are 10 to 12 other guards that you can lean on when you're having a bad day. It's essentially a small family when you're there.
Everything that we do is team oriented. Nobody's got a higher rank or credential – we all work together."
What is some advice you have for someone who is considering a career change?
"The hardest part of this job is getting here. Once you're at the site everything just falls into place. I tell the young folks that come up – if you want to be successful, this is a good place to be successful. You earn your credentials, you earn your keep, you respect the values, you keep everything in order."
There's always something new, there are so many different scenarios and situations. You could be helping someone find their way, then the next minute responding to a first aid call. It can be anything at any given moment."
Career Expo Offers Information and On-the-Spot Interviews
NORPRO Security will be hosting a career expo on Thursday, November 3 between 11 AM and 2 PM at 477 Queen Street East, Suite 303, in Sault Ste. Marie. At this Industrial Security Guard Experience event, attendees can expect to meet the security team, have an on-the-spot interview, learn how to get a security guard license, and find out how to join NORPRO Security's Industrial Guard Training Academy.
Interested individuals should bring a current resume.
A career as an industrial security guard offers a number of benefits, including:
Free training
Work 7 days on and 7 days off for full-time wages
Housing, meals, and transportation are free
Health benefits
Provide security and protect people and property throughout Northern Ontario
Career growth opportunities
$500 signing bonus
To register for the career expo, visit their event page and get your free ticket today!