The city's six automated speed enforcement cameras won't begin snapping photos of speeding motorists' licence plates until December or January.
City acting director of Linear Infrastructure Services Joe Rocca provided the city's elected officials with an updated timeline earlier this week, at which time he described a launch by January as "likely ... based on where we are currently."
The city has entered into agreements with the City of Toronto to use its processing centre to analyze the information the cameras capture to issue tickets, and Redflex to supply the cameras.
They're currently waiting on the Province of Ontario to allow them access to licence plate information.
Signs for the first six affected locations have already been up for several weeks, as provincial legislation requires the municipality to install signs alerting motorists' to speed trap location at least 90 days prior to enforcement.
The first six locations are as follows:
Bellevue Avenue (between Picard Street and Ralph Street)
Algonquin Road (between Maurice Street and Field Street)
Falconbridge Road (between Donnelly Drive and Church Street)
Main Street, Val Caron (between Justin Street and MR 80)
Hillcrest Drive (between Brian Street and Mikkola Road)
Gary Avenue (between Lasalle Blvd and Madison Avenue)
When the speed traps are active, the bottom portion of the signs will change from "coming soon" to "in use," and the yellow background will change to white.
"That'll be a visual queue for motorists to know something has changed in this area," Rocca said, later clarifying that the city wants motorists to know where these cameras are located so they adjust their driving habits without the need for enforcement. A "comprehensive communications" strategy will accompany each collection of six locations.
Cameras will be up for at least two weeks before they begin resulting in tickets being issued, and will change locations every four months, shifting down a list of priority locations.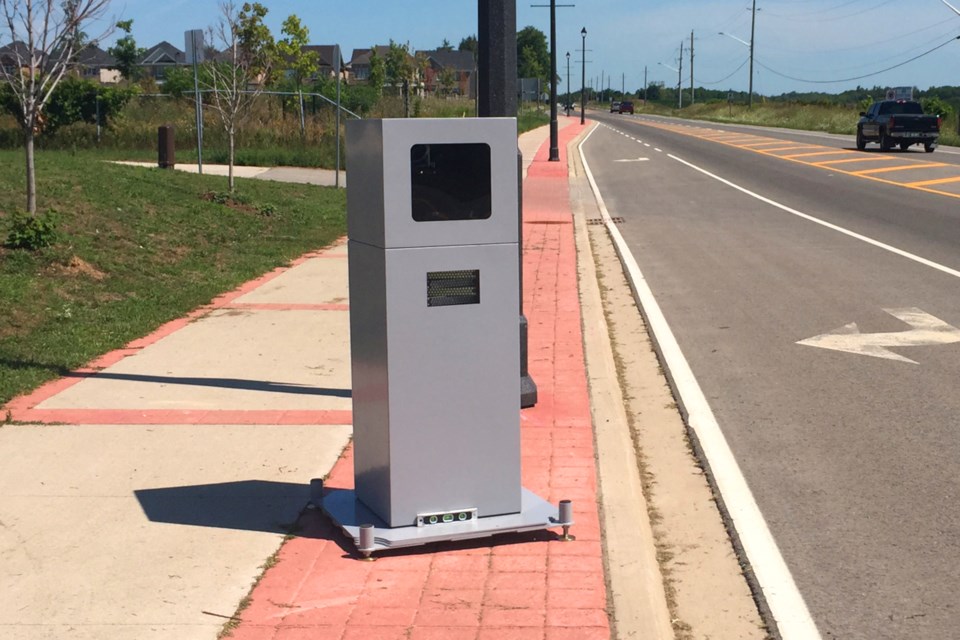 The city's set of criteria used to select these locations was approved by city council earlier this year, which Rocca described as necessary to ensure fairness.
"There are a lot of requests that come in regarding speeding, and if we don't have a system in place to sort through those requests and rank those requests against each other, it will become very challenging to manage this program and to apply it in an equitable manner across the community," he said.
"There are a lot of areas that have needs, and we as staff are trying to approach this in the most equitable way possible."
The hope is that residents will adjust their driving behaviour with the introduction of cameras, and won't fall back on old habits when the cameras move to a new location.
If this doesn't prove to be the case, Rocca said the city might consider introducing permanent cameras.
"We're trying to get people to obey the posted speed limits everywhere, without this equipment," he said.
"In an ideal world, drivers would just drive the posted speed limit and we wouldn't have to have any discussions about automated speed enforcement or any other measures we talk about repeatedly to try to control driver behaviour on our roads."
The six "Deployable 250" Redflex portable speed detection systems the city is purchasing are able to photograph licence plates during both day and night.
Each unit includes two independent radar detectors, which individually measure the speed of a vehicle and must be within a predetermined tolerance.
Tyler Clarke covers city hall and political affairs for Sudbury.com.